Revitalizing Carpet and Rug Cleaning Services in Stockport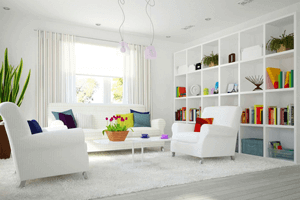 Your carpets are some of the largest interior decorations in your home. As such, they are exposed to large amounts of dust, dirt and allergens on a daily basis, especially when they are in the high-traffic areas. It doesn't take long for the average carpet to start looking dirty and worn, which leads to decreased interior appeal and of course, bad indoor hygiene.
Conventional carpet cleaning techniques are not the most efficient way to keep your carpets clean and fresh for long. They manage to clean only the top surface of your carpets, without even touching the dirt within the fibers and in the base layer. That's why it's recommended to have your carpets deep cleaned at least once every six months and use the services of a licensed cleaning company. This improves the indoor air quality and keeps your home looking cleaner and fresher for longer.

The carpet in the living room began to look dirty and worn out, so I've decided to refresh it a little and schedule a professional carpet cleaning service. This company was recommended by a friend of mine. They did a ...

You were the first domestic cleaning company in Stockport I've ever tried and I'm glad I did because you've been helpful every single time. Our house is always well cleaned, tidy and smelling fresh 😉

I always mean to be more thorough when cleaning my oven, but unfortunately I'm usually too busy. And by busy I mean "not in the mood to do it". Luckily, I have Sweep and Swab Stockport at my side. Well ...

Last week I called Sweep and Swab to clean my carpets. The booking process was quite easy and they had available cleaners for the next day. The overall service was prompt and thorough. My carpets are clean and fresh, I'm ...

After using their one-off house cleaning two times already, I'm considering to hire them as my regular maids. A very acceptable price for a very high quality service.
Stockport Deep Carpet Cleaning Techniques
The provided thorough carpet cleaning services are suitable for all types of natural and synthetic carpet fibers. All cleaning methods work deep inside the carpet textile, between the fibers and all the way down to the base layer. This improves both colour fastness and hygiene. With proper assessment of the carpet material, the applied cleaning techniques will cause no damage to the structure of your soft floorings – shrinking, slumps and clumps, deformation or losing their colours.
This efficient and deep treatment of your favourite carpets and rugs is usually performed with either one the following two methods – hot water extraction or dry powder cleaning. The first is universal and a highly effective way to clean deep inside your carpet, using the natural cleaning power of hot steam. That's why sometimes it's called steam cleaning. The second method – dry powder cleaning – is a relatively newer approach with emphasis on reduced drying times. Both cleaning techniques are safe for the different types of carpet fabrics.
Protect Your Soft Furniture With Regular Upholstery Cleaning
Your sofas and armchairs are one of the most significant investments in your home. Being made from delicate upholstery fabrics, they are also one of the most vulnerable items in your living rooms that collect dirt, dust and spills. Fabric finished sofas, settees and armchairs can be cleaned with a wide variety of methods, but for delicate materials it's really important to use the services of someone with experience and knowledge. Otherwise, if you try to clean it by yourself, you may cause an untold damage to your costly furnishings.
Why Work With Our Carpet Cleaners in Stockport
Professionally trained technicians, qualified in both fabric assessment and textile cleaning
Using only quality carpet and upholstery cleaning solutions and equipment
Utilising hot water extraction or advanced enzyme powder technology
Pre-treatment of hard-to-remove stains and high-traffic areas
Cleaning your carpets and upholstery on a regular basis extends their life expectancy
A great addition to your domestic cleaning and end of tenancy cleaning appointments
Special deals when you book more cleaning services at the same time
Convenient scheduling options, including weekends and holidays with no price change
Complete insurance cover for your peace of mind
24 hours a day customer care at

0161 823 0310

Free quotes with zero obligation